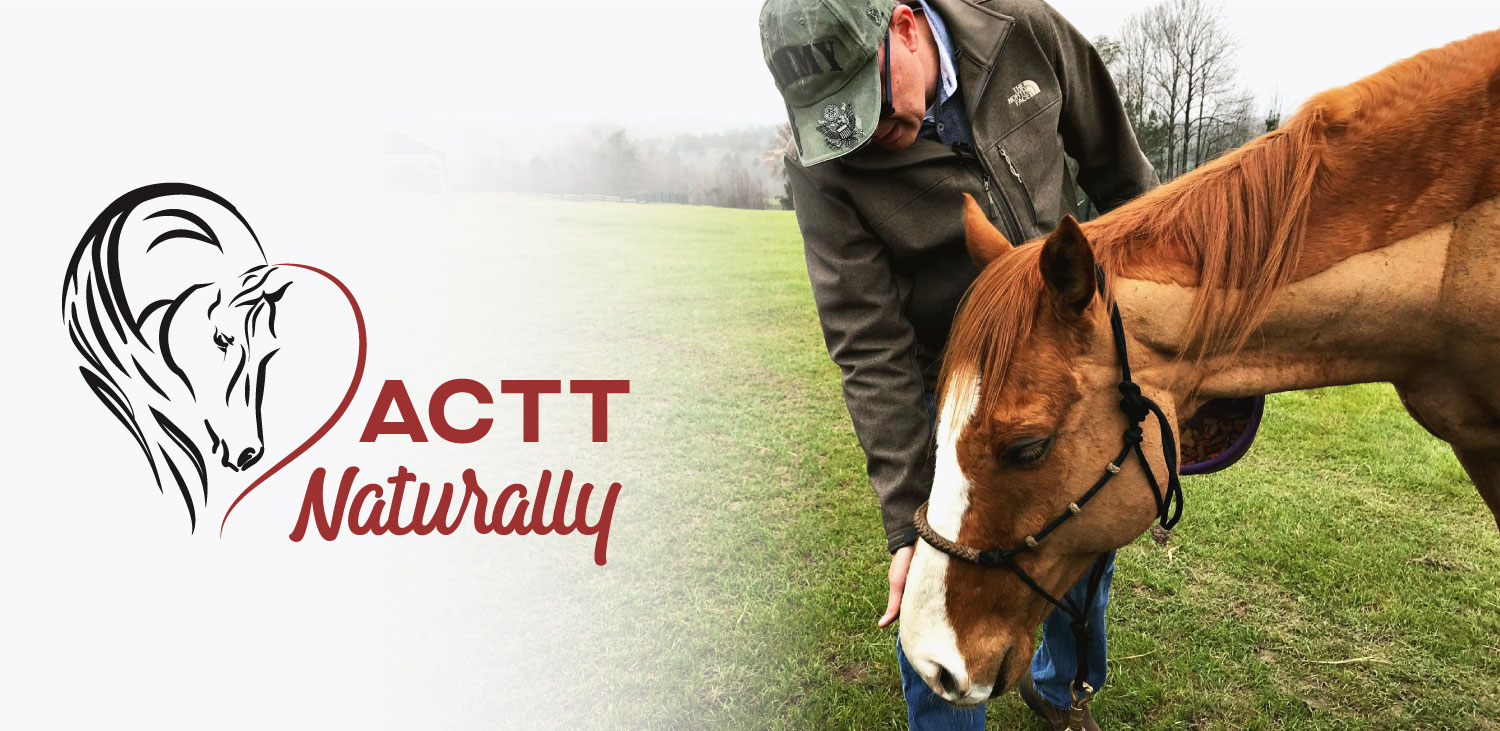 THOROUGHBRED RETRAINING ORGANIZATION TO ACCEPT DONATION AND UNVEIL NEW LOGO
CAMBRIDGE, NY, Feb. 7, 2020 – ACTT Naturally, a Washington County-based Thoroughbred retraining and equine-facilitated learning organization, today reveals a new brand identity. The new logo symbolizes the relationship between former racehorses and the veterans, first responders, and families who work with them.
The brand design is a representation of ACTT Naturally's original design with a modern touch, simplified for print and digital mediums. Corresponding brand elements include new brand-standard typefaces, colors, and marketing materials that will become the foundation of a growing marketing initiative.
"Our team is proud to have joined our friends at Northway Brewing to help out such a great cause with ACTT Naturally. The rebranding of the logo was a joint effort and we had a great time collaborating with Valerie and her team to update their brand. The horseracing industry is a large part of our local flavor, and to see the work Valerie is doing to create a positive working life for these horses after their retirement and the impact she and her team make in the lives of our fellow community members is humbling." – Jesse Tyree, Principle, Black Dog Designs
ACTT NATURALLY'S NEW LOGO AND VISUAL BRAND WERE DESIGNED BY GLENS FALLS-BASED DESIGN AGENCY BLACK DOG DESIGNS.
The collaboration was facilitated by Max Oswald, General Manager of Queensbury's Northway Brewing and a dear friend of ACTT Naturally. Because of his relationship with Black Dog Designs, who has developed the brewery's labels and brand identity, Oswald brought the project to Tyree and his team.
"I was introduced to Valarie and ACTT Naturally through mutual friends at Death Wish Coffee. During my first visit, I was moved by her sincere commitment and dedication to the incredible equine athletes and her contagious compassion for humans. We are thankful and lucky to be part of the very generous local beer community willing to support and give to so many community efforts." – Max Oswald, Northway Brewing Co.
ACTT Naturally will celebrate the launch of its new logo at the Northway Brewing Taproom location with members of Black Dog Designs and Northway Brewing, today, Friday, February 7th, 2020 at 1 P.M. They will also be accepting a donation from Northway Brewing's Broken Resolutions Beer Fest, where the attending breweries, cideries, and distilleries donated their time and their product to help raise $4000.00 for this amazing organization.
"We are so appreciative of the support from the area's local businesses. The collaborative support we are receiving from Northway Brewing and Black Dog Designs is an affirmation that our work is doing good for our communities. We cannot thank them enough for their generosity." – Valerie Buck, ACTT Naturally
LET'S DO THIS.. WHAT TYPE OF PROJECT ARE WE STARTING?
To learn more about our marketing services contact us at [email protected] or call us at 518.792.0500!